Hitachi 586L French Door Fridge - R-W720P7M
Brand: Hitachi
Quantity: In Stock
---
---
---
Dimension: 855 cm (Length) x 1835 cm (Width) x 737 cm (Height)
Hitachi 586L Big French Side-by-Side 4-Door Refrigerator R-W720P7M
The Hitachi 586L is a refrigerator that delivers quality and cleanliness with features to enhance its tasks.
Features include a dual sensing control that helps even the cooling on all compartments which greatly helps in the cooling accuracy for your groceries. The Nano-Titanium Filter is also a high-end technology that serves as a strong anti-bacterial paired with a deodorizing effect that negates microorganisms and ensures the freshness of your groceries.
Cleverly designed, the Hitachi 586L is elegantly crafted with tempered glass shelves and compartments for specific purposes like the moisture-guard vegetable compartment and the freezer compartment.
Additionally, this fridge is also installed with a door alarm that warns users if the fridge door is not closed properly and can cut users' electricity bills down a bit.



The Hitachi Solution for Powerful Refrigeration Plus Exceptional Energy Saving.

Dual Fan Cooling
Dedicated Fans for Each of the Compartments
It provides optimum cooling in both the freezer and the refrigerator compartments, something a single fan can't do. Improved Dual Fan Cooling ensures energy saving and powerful cooling, supported by the Eco Thermo-Sensor in each compartment detecting any temperature changes at all times.
High Power Inverter Compressor
Capable of providing exceptionally powerful cooling by generating a large volume of chilled air, as well as efficient low power cooling with microcomputer control.
Dual Sensing Control
Hitachi refrigerators have two Eco Thermo-Sensors, one in the freezer compartment and the other in the refrigerator compartment. The sensors detect any temperature changes separately to enable the ideal temperatures to be maintained in each of the compartments at all times.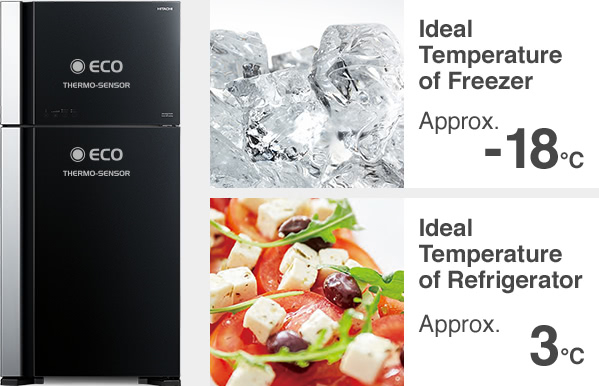 Energy Saving
Controlling how much and to which compartment chilled air is delivered, it assures no wasted energy thus helping it acquire world top class energy saving ratings.
Fresh Select
The Select Lever lets you adjust the inside temperature by switching between the two modes.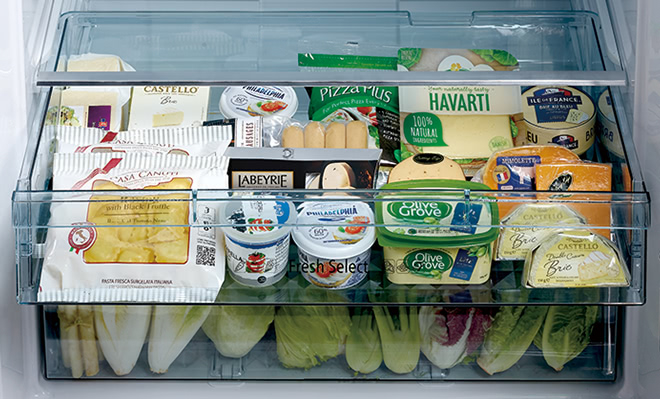 Vegetable Mode
For storage of easily damaged soft fruits and vegetables
Organizes items by size
Approx.5°C
Dairy / Meat Mode
Keeps meat and fish fresh
Thaws frozen foods
Rapidly cools drinks
Approx.1°C
Big, Moisture-Guard Vegetable Compartment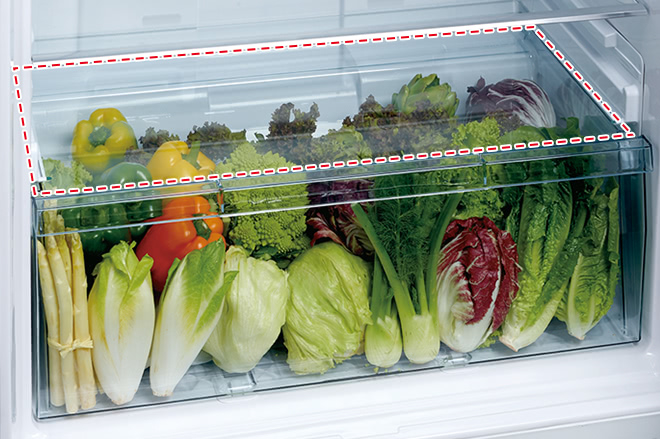 Optimum High Humidity with the Moisture-Guard
Moisture-Guard on top ensures indirect cooling to maintain the optimum moisture level on the vegetables.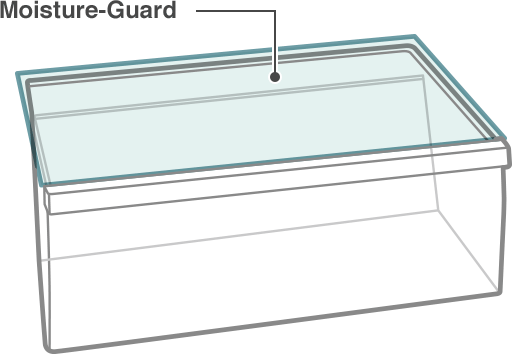 High
Humidityapprox.
92%*
*Tested by Hitachi. Differs depending on the amount and type of vegetables.
Double-Deck Vegetable Storage
Select the Vegetable mode of the Fresh Select and it becomes a second storage area for vegetables, adding an extra space.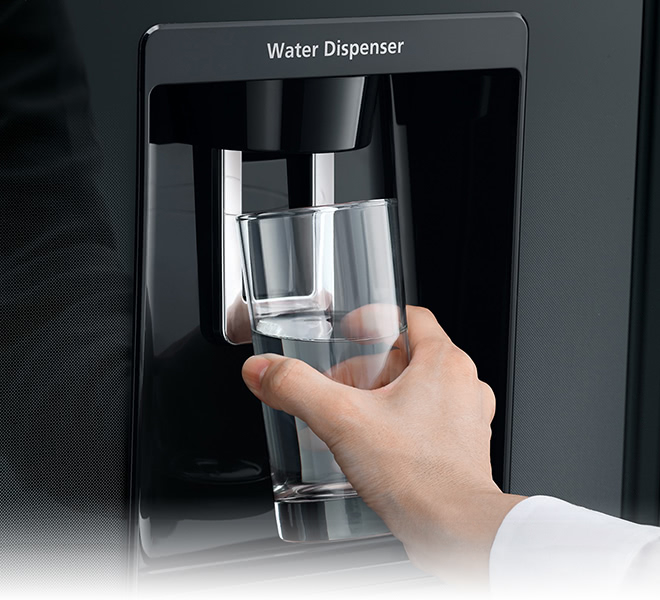 Tank Type Water Dispenser


Top Freezer
Door
4 Door
Series
Big French
Standard
Glass
Net Capacity (L)
Total : 540
Freezer : 144
Gross Capacity (L)
Total : 586
Freezer : 144
Dimensions (mm)
Width : 855
Height : 1835
Depth with Handle : 737
Depth without Handle : 727
INVERTER x Dual Fan Cooling
Refrigerator Compartment
Fresh Select
Tempered Glass Shelves
Water Tank with Filter
LED Light
Big, Moisture-Guard Vegetable Compartment
Freezer Compartment
Movable Twist Ice Tray
Quick Freezing
Tempered Glass Shelf
LED Light
General Features
Dual Sensing Control
(Eco Thermo Sensor)
Water Dispenser
Touch Screen Controller
Nano Titanium Filter
Door Alarm
Common Features
Refrigerant R-600a / CFC-Free / HFC-Free / No Frost / Moldproof Door Gasket
Color
Glass Black (GBK)
Inquiry - Hitachi 586L French Door Fridge - R-W720P7M
Fill out the form below and we'll be in touch soon.